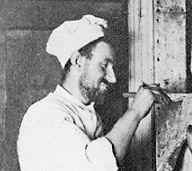 Charles John Green

Cook Endurance 1914-17
Cook Quest - Ernest Shackleton 1921 - 1922
The Endurance Expedition
Green was the expedition cook, with the assistance of Perce Blackborow, he worked in the galley, first aboard ship and on the ice, working the longest days of any on the expedition on a regular basis, from early morning till evening, preparing meals for 28 hungry men.
When on the ice, they cooked on a stove that was heated by burning seal or penguin blubber, a very smoky fuel which gave them permanently blackened faces and earned them the nicknames of "Potash and Perlmutter".
Green was regarded as disorganized and scatterbrained by the rest of the men, though his conscientiousness in his job more than made up for these. He was sometimes called "Doughballs" due to his high squeaky voice and had earlier lost a testicle in an accident.
(I am unable to find out why these names were given. "Potash and Perlmutter" were a series of stories written by Montague Glass, a glove salesman in the early 1900's about a pair of Jewish tailors, they became a series of comedies, initially stage plays and then from the mid 1920's films by MGM - any insights appreciated. My guess is that the names for given for their characteristics, rather than appearance)


"Potash and Perlmutter"
Endurance
Personnel
Bakewell, William
Able Seaman
Blackborow, Percy
Steward (stowaway)
Cheetham, Alfred
Third Officer
Clark, Robert S.
Biologist
Crean, Thomas
Second Officer
Green, Charles J.
Cook
Greenstreet, Lionel
First Officer
Holness, Ernest
Fireman
How, Walter E.
Able Seaman
Hudson, Hubert T.
Navigator
Hurley, James F. (Frank)
Official Photographer
Hussey, Leonard D. A.
Meteorologist
James, Reginald W.
Physicist
Kerr, A. J.
Second Engineer
Macklin, Dr. Alexander H.
Surgeon
Marston, George E.
Official Artist
McCarthy, Timothy
Able Seaman
McIlroy, Dr. James A.
Surgeon
McLeod, Thomas
Able Seaman
McNish, Henry
Carpenter
Orde-Lees, Thomas
Motor Expert and Storekeeper
Rickinson, Lewis
First Engineer
Shackleton, Ernest H.
Expedition Leader
Stephenson, William
Fireman
Vincent, John
Able Seaman
Wild, Frank
Second in Command
Wordie, James M.
Geologist
Worsley, Frank
Captain


Biography
Green first went to sea at the age of 21 as a cook in the Merchant Navy, he was the son of a master baker.
His return from the expedition in November 1916 provided something of a shock, his parents had presumed him dead, not having heard anything in two years and had cashed in his life insurances. Maybe less surprising, the young lady he had been courting had now married someone else.
He enlisted in the Royal Navy as a Cook early in 1917, serving on the Destroyer H.M.S. Wakeful. In November 1918, he was married to Ethel May Johnson of Hull, in the same month he was given the Bronze Polar Medal for his services on the Endurance expedition.
In 1919 he resumed his job as a merchant navy cook on various ships around the world.

Shackleton requested in early 1921 that Green join him on what would become the Quest expedition to Antarctica, though this was cut short by the unexpected death of Shackleton from a heart attack in a South Georgia harbour.
Back in England it was back to being a cook in the merchant navy. Green now had a set of glass lantern-slides from the Endurance expedition given to him by Shackleton on board the Quest", which gave him the opportunity to give lectures in his numerous ports of call including the U.S.A., Canada, South Africa, Australia and New Zealand.
He left the merchant navy in 1931 due to the ill health of his wife who had cancer. He worked the night shift in a bakery in Hull, looking after his wife by day until she died in 1936, there were no children.
Green became a "Fire Watcher" in the Second World War from 1939 on the roof of a large garage in Hull city centre. Hull, had a docks and naval presence making it an obvious enemy target. Green was bombed out of home nine times, losing everything, at one point living in an Air Raid Shelter for over a fortnight. He found lodgings with a previous neighbour and eventually stayed with them for over thirty years.
Green gave over a thousand Shackleton lantern-slide lectures to various societies, schools, clubs, organisations, even prisons, across the whole country. He kept in touch with other Endurance and Quest expedition members, and attended the Endurance 50th Anniversary reunion in London in June 1964 and the commissioning of the Royal Navy's new Antarctic Survey ship "HMS Endurance" at Portsmouth Dockyard in 1968. He returned to Portsmouth in 1970 to revisit "HMS Endurance", accompanied by the then remaining survivors, Lionel Greenstreet and Ernie How.
By 1972, Green had given up lecturing career and suddenly sold his extensive collection of material, memorabilia, lantern-slides and projector, these were bought by a dealer who mainly wanted the Bronze Polar Medal, an item that he had worn with pride at every lecture or official occasion.

He died in Beverley Hospital, near Hull of Peritonitis on the 26th of September 1974 at the age of 85 years.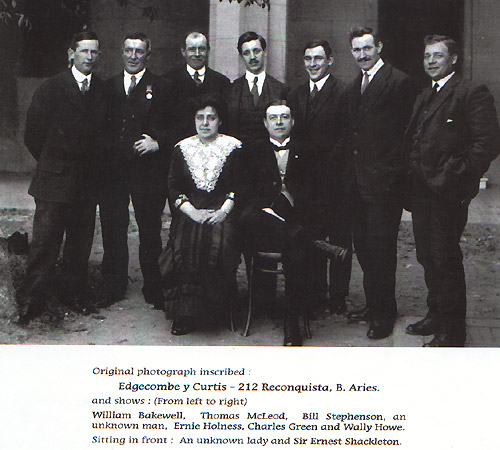 Some of the crew of the Endurance photographed in Buenos Aries 1917
picture courtesy Robin Mackenzie - Stornoway Historical Society
As a pupil at Beverley Grammar School at the end of the 1960s I attended an after-school lantern slide show given by Green in the Physics Laboratory. As I recall he was given minimal introduction. He conjured up the difficulties of their journey and tailored the talk well to his adolescent male audience. For example, he detailed the problems of urinating at such low temperatures. All was delivered with the understatement typical of that generation and those times. Despite his age and the outdated equipment he won the respect of his audience.
Michael Smith - by email
Richard Tarran MVO - by email
References to Charles Green in Shackleton's book "South!" he was usually referred to as "cook" rather than by name buy USA buy UK
The cook deserves much praise for the way he has stuck to his job through all this severe blizzard. His galley consists of nothing but a few boxes arranged as a table, with a canvas screen erected around them on four oars and the two blubber-stoves within. The protection afforded by the screen is only partial, and the eddies drive the pungent blubber-smoke in all directions.

At 9.30 p.m. that night we were off again. I was, as usual, pioneering in front, followed by the cook and his mate pulling a small sledge with the stove and all the cooking gear on. These two, black as two Mohawk Minstrels with the blubber-soot, were dubbed "Potash and Perlmutter." Next come the dog teams, who soon overtake the cook, and the two boats bring up the rear. Were it not for these cumbrous boats we should get along at a great rate, but we dare not abandon them on any account. As it is we left one boat, the Stancomb Wills, behind at Ocean Camp, and the remaining two will barely accommodate the whole party when we leave the floe.

There was no rest for the cook. The blubber-stove flared and spluttered fiercely as he cooked, not one meal, but many meals, which merged into a day-long bout of eating. We drank water and ate seal meat until every man had reached the limit of his capacity.

The galley was set up by the rocks close to my tent, in a hole we had dug through the debris of the penguin rookery. Cases of stores gave some shelter from the wind and a spread sail kept some of the snow off the cook when he was at work. He had not much idle time. The amount of seal and sea-elephant steak and blubber consumed by our hungry party was almost incredible. He did not lack assistance—the neighbourhood of the blubber-stove had attractions for every member of the party; but he earned everybody's gratitude by his unflagging energy in preparing meals that to us at least were savoury and satisfying. Frankly, we needed all the comfort that the hot food could give us.

At first the meals, consisting mostly of seal meat with one hot drink per day, were cooked on a stove in the open. The snow and wind, besides making it very unpleasant for the cook, filled all the cooking-pots with sand and grit, so during the winter the cooking was done inside the hut.

The cook, who had carried on so well and for so long, was given a rest on August 9, and each man took it in turns to be cook for one week. As the cook and his "mate" had the privilege of scraping out the saucepans, there was some anxiety to secure the job, especially amongst those with the larger appetites. "The last of the methylated spirit was drunk on August 12, and from then onwards the King's health, 'sweethearts and wives,' and 'the Boss and crew of the Caird,' were drunk in hot water and ginger every Saturday night."