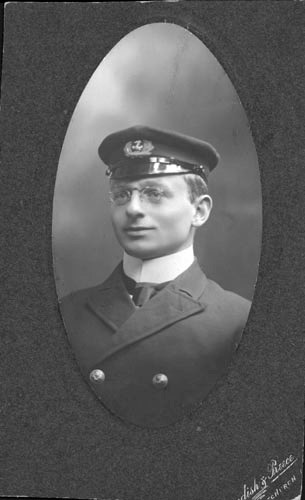 Second engineer - Discovery 1901-04
Scott had difficulty in selecting the steward for the Discovery Expedition, partly as it is such an important position on an exploratory trip with little or no chance for replenishment of supplies, compounded by the fact that they were heading largely into the unknown in the way that events may have progressed.
Ford was a very young man and inexperienced at the time of the voyage, though he fitted the task very well. Like many other young men on such expeditions, compensating with inexperience with a quick ability to learn and detailed application to his appointed job.
Biography of Charles Reginald Ford's later life in the Dictionary of New Zealand Biography
Landmarks named after C. Reginald Ford
Feature Name: Ford Spur
Type: ridge
Latitude: 84°51´S
Longitude: 173°50´E
Description: A prominent spur which marks the SW extremity of Haynes Table, and the confluence of Keltie Glacier and Brandau Glacier in the Queen Maud Mountains. Named by NZGSAE (1961-62).