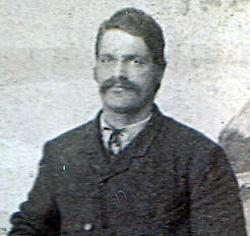 Amundsen/Fram - first successful expedition to reach the South Pole - 1910-12 Fram
Master Arctic ice pilot from the Tromsø area of northern Norway, with 20 years experience sailing in ice strewn waters.
Andreas Beck was born on the 8th of October 1864 in Northern Norway at a place called Balsfjord, his father was a skipper and he sailed the Arctic seas from the age of 17, becoming a skipper himself in 1896. He gathered considerable experience as a harpooner and ice pilot taking part in two scientific expeditions to Svalbard.
After taking Amundsen and his South Pole party to their wintering quarters, he stayed on the Fram during an oceanographic cruise of the South Atlantic. He died of unknown causes on board the Fram as she was heading towards Montevideo in Uruguay on the 18th of march 1914.
Landmarks named after Andreas Beck
Feature Name: Beck Peak
Type: summit
Elevation: 2650
Latitude: 86°05´S
Longitude: 158°58´W
Description: A peak, 2,650 m, on the E flank of Amundsen Glacier, standing 2 mi NW of Mount Stubberud on the ridge descending from northern Nilsen Plateau, Queen Maud Mountains. This peak appears to have been first mapped from air and ground photos taken by the ByrdAE, 1928-30. It was mapped in greater detail by USGS from surveys and USN air photos, 1960-64. Named by US-ACAN for A. Beck, a crew member on the the spirit of Amundsen's 1911 commemoration of "Mount A. Beck," a name applied for an unidentifiable mountain in the general area.

Variant Name(s) - Mount A. Beck, Mount Beck